KARMIC REMEDIES and RESOURCES
Vedic Astrology and Karma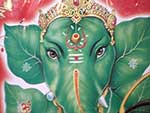 Vedic astrology is a system given to humankind to release us from detention under the law of karma. The word karma is derived from the Sanskrit root word kri, which means "to do." Karma literally means "an act that both causes and is caused." At a higher level, karma describes the cosmic principle of cause and effect that directs conscious life. Each action or event is part of a complex web of causes that create future reactions or experiences. This web is coordinated according to a karmic law that encompasses both fate and free will.
Free Will and Fate
Vedic astrology is not fatalistic or deterministic; rather, it relies on a variety of charts that allow astrologers to perceive several levels of karma that exist simultaneously because of both fate and free will. Through free will, we choose how to act under the effect of circumstances that we encounter as a result of fate. Free will reflects our personal responsibility because all our actions create reactions that we either enjoy or suffer. We are always in receipt of the results of the earlier actions created through our free will. The karma created by our free will in this lifetime can further modify that which was incurred in past lifetimes. In essence, we really are in charge of what happens to us.
"Every thought that we think, every deed that we do, after a certain time becomes fine, goes into the seed form, so to speak, and lives in the fine body in a potential form, and after a time, it emerges again and bears its results. These results condition the life of man. Thus he moulds his own life. Man is not bound by any other laws excepting those which he makes for himself."— Swami Vivekananda
Karmic Remedies

Not only can Vedic astrology forewarn of certain pressing difficulties, it can also offer remedial karmic methods (upayas). Literally, upaya means "a skillful way to liberation." Upayas are the means to liberate us from the effects of karma, so that the unfavorable results of certain past deeds can be mitigated or even neutralized. Upayas work by attuning us to subtle spiritual energies that can help protect us from inharmonious electromagnetic forces and enhance our ability to receive energies that are more helpful. The Vedic astrologer recommends specific upayas according to an array of factors based on the natal and progressed horoscope as well as the personal preferences of each individual. Many of these methods are prescribed according to the strength and weakness of the planets, which are the channels for karma.
Living in Balance
For all human beings, perhaps the greatest remedy of all is to live in balance, which the Navajo Native Americans call "walking in beauty." In order to live in balance, we need to live by a moral code. The late Lakota medicine man Mathew King very aptly summed up a straightforward formula for happiness and decency given to human beings by the Great Spirit, "Our instructions are very simple—to respect the Earth and each other, to respect life itself…Respect is our Law, respect for God's creation, for all living beings of this Earth, for our mother the Earth herself."
Align with Wisdom
As we make sound, ethical decisions and healthy, mindful choices, we come into alignment with the universal life force that streams through all life. When we live life as a great prayer of gratitude and compassion, we experience unity and harmony. It is important to begin each day taking some time to feel grounded and attentive to this higher purpose. This will help us to remain peaceful and aligned with our inner wisdom throughout our busy day.
Astrological Healing
Vedic astrology provides opportunities to purify and release karma in a variety of ways. Besides including recommendations for remedies, a Vedic astrology reading is itself a remedy! It can shine a light on our nature, destiny, and karma, revealing our swadharma (our own unique life path), so that we might understand better how to pursue the right path of development in life. A reading can help to reveal our greatest potential and how best to optimize it. It can also point out our limitations, which are our greatest spiritual teachers.